Terex Trucks takes a stand at Kazcomak
13 Sep 2017
Scottish manufacturer Terex Trucks will be out in full force at Kazcomak 2017 in Kazakhstan (20-22 September).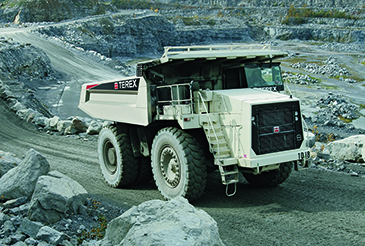 Terex Trucks will be exhibiting at Kazcomak 2017 (20-22 September) in Pavilion 9C, at stand number C142.
Terex Trucks is set to stand firmly on its haulage heritage at the 14th edition of Kazcomak. Taking place at the Atakent IEC in Almaty, Kazakhstan, the Scottish heavy equipment manufacturer will demonstrate how it is collaborating with its official dealer in the region, Eurasia Machinery, to offer customers unprecedented service excellence.
Paul Douglas, director and general manager at Terex Trucks, comments:
"Kazakhstan is the world's largest producer of uranium, and it's also known for its major oil reserves, deposits of chromium, zinc, and copper, and as a result the country remains an attractive market for investments as the global mining industry welcomes a slow but steady recovery.
"To this effect, it's important that the Terex Trucks brand is well represented in the region which is why it's exciting to be exhibiting our offering at this year's Kazcomak. A team of experts from both Terex Trucks and Eurasia Machinery will be in attendance at the stand to discuss our articulated and rigid haulers, as well as our outstanding aftermarket services."
Exhibiting in Pavilion 9C, at stand number C142, Terex Trucks will showcase how half a century of manufacturing innovation has enabled the company to craft a range of off-highway machines with class-leading productivity. Offering payloads ranging from 25 to 91 tonnes, Terex Trucks' fuel efficient haulers are proven in a variety of terrains and provide the perfect balance between weight and power. The Scottish manufacturer will also present its new extended two-year or 6,000-hour warranties on all Factory-Approved parts at the exhibition.
Douglas concludes: "Terex Trucks very much looks forward to meeting with old and new customers at the hopefully sunny three-day event."